SLEEP TALKER
Discography:


2010 - "Dead Bees sampler #9" (cd-r compilation - db -08)


2009 - "Cornerlife Crisis " (cd album - db 06)


2009 - "Dead Bees sampler #8" (cd-r compilation - db -07)


2007 - "Dead Bees sampler #6" (cd-r compilation - db -05)


2006 - "Dead Bees sampler #5" (cd-r compilation - db -04)


2006 - "Sleep Talker / Jumbo Jet split album " (cd album - 2006 - dbmo 49)


2006 - "Sleep Talker" (cd album - db 04)


2006 - "Shelbyville Bus Stop ep" (cd-r ep - dbr 08)


2004 - "Dead Bees sampler #2" (cd-r compilation - db -01)
---
Website:
http://www.myspace.com/wearesleeptalker
---
Biography:
Recording 18 songs and mix them in a weektime was exhausting but interesting and funny. I want my ears back...
Sleep Talker is meant to be a 'work in progress'. Feel free to download our songs, write your lyrics and sing them to the song you want, then record it and send it to us. If we like the new version, we'll upload it on our website; we might as well put it on a cd release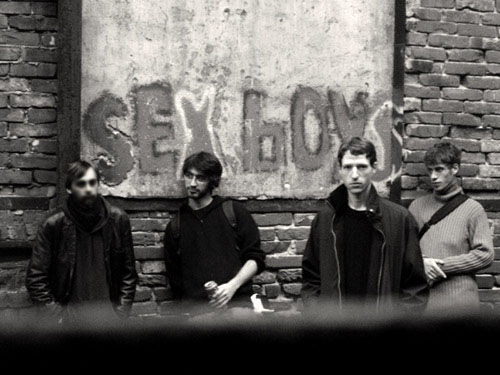 Biographie:
Le groupe vient juste d'enregistrer 18 titres au studio Amanita. Les sorties du ep "Shelbyville Bus Stop" (db-r) et de l'album éponyme (db04) sont prévues respectivement pour fin Mars et Mai.

Sleep talker est formé en mars 2003 par l'envie et la curiosité de ses membres qui bénéficient déjà tous d'une expérience de groupe. Lorsque l'activité de Call Me Loretta se réduit, Seb (guitare, octaver) qui avait précédemment joué dans feu Gardening At Night décide de former un nouveau groupe avec Rémi (guitare) et Nico (batterie) du groupe Eyelash Pulse ainsi que Jean (guitare), du duo Lontano et qui officiait dans Luna Craft.

La musique du groupe s'affranchit des barrières habituelles et essaye d'explorer de nouveaux chemins grâce notamment à la répartition originale des instruments et évolue dans un registre 'indie-pop-rock' instrumental efficace doté d'un son singulier. Le groupe se retrouve aujourd'hui avec 18 compositions enregistrées, des morceaux relativement courts, tous bâtis en répétition entre sérénité et urgence, guidés par des mélodies entrelacées, efficaces et variées. Tout en ayant le souci de conserver une rythmique dynamique, le groupe s'évertue à entremêler des lignes de guitares et parvient à faire surgir en filigrane de précieuses mélodies cachées.

Sleep Talker est conçu par ses membres comme un "work in progress". N'hésitez pas à télécharger les titres, écrire vos paroles, trouver un chant et l'enregistrer sur la chanson que vous voulez, puis, nous l'envoyer.