Band Index:
ALONE IN 1982
THE BLACK FEATHERS
BLITZEN TRAPPER
THE BRIAN JONESTOWNMASSACRE
CALL ME LORETTA
THE CHEMISTRY SET
COBSON
COTTON CLUB
THE DALAÏ LAMA RAMA FA FA FA
DAN ALFRESCO
DIE ! DIE ! MY DARLING !
DE NEUVE
DIRECTOR'S CUT
THE EVERY THING
E BECOMES I
EYELASH PULSE
FUCK BUDDIES
HENRI JOEL
INVISIBLE
THE JUNKYARD BIRDS
KAMIDO:TU
LET'S GO SAILING
MOLOKO VELOCET
MOORE:MUSIC
MY IMAGINARY LOVES
MYGHOST
NOT-I BIRD
THE NOVA EXPRESS
RECIFE
THE RUSTY BELLS
SLEEP TALKER
SOUNDS IN THE OLIVE GROVE
THE TEMPORARY THING

Friends / Mailorder bands:
ALONE WITH EVERYBODY
THE ARROGANTS
ASTEROID NO. 4
THE BLACK ANGELS
BOSOM DIVINE
RICK BAIN
THE CLERKS
DEAD MEADOW
THE DECEMBER SOUND
FEDERALE
JULL
JUMBO JET
THE KEYS
KID FRANCESCOLI
LISPECTOR
THE LOVETONES
MAISON NEUVE
MUSCLHARD
NICHOLSON
NUIT NOIRE
THE QUARTER AFTER
RIEN
SILENCE KIT
SKY PARADE
SOLTERO
SPINDRIFT
THE URCHINS
Lastest tweets/wall posts:
RIEN
Discography:


2004 - "Requiem pour des Baroqueux " (cd album - amicale underground - dbmo 44)
---
Website:
http://www.myspace.com/rienrienrien
http://www.amicale-underground.org/
---
Biography: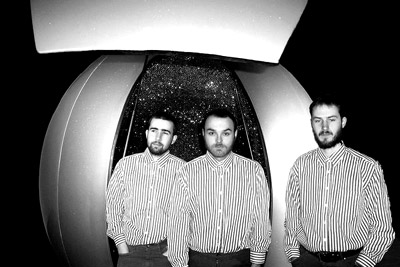 RIEN
Many wanted to unravel the secret of the spiral and every one of them failed. Reproducing endless circular motives on cheap paper sheets, subject to a contemplative pain that will never dare say its name, most eminent researchers remain fascinated by the idea of an endless loop. Sprung from an obscure seventh way, emerging from the borders of anonymous influences, learnedly scattered, Requiem pour des baroqueux (Requiem for Baroquists) the first album by Rien follows the circumvolutions of this hypnotic spiral. Using as a mere safeguard this sentence of Max Ophüls (1902 Sarrebruck 1957 Hambourg) By running after the audience for to long, you just end up looking at his ass, Rien wants to give his sinusoidal opus this unwillingly anti-marketing fever that distinguished these Baroquists, whose putrid aura soars with benevolence above this album.

Categorically refusing to apprehend the spiral case under a mathematical perspective, Rien peppers its artistry with numerical contradictions: the substance prioritizes a seven beats circumvolution (during the recording sessions, only seven persons were authorized within the studio), along seven tracks filled with sound traps and, if one is ready to make the effort, visual traps. The form, by sheer and instinctive concern for respecting its own chaotic logic, takes on the appearance of a DIY six sided cube, offering to the new and bitter owner the opportunity to draw cabalistic signs of his choice to force the hand of destiny.

Height of arrogance, the cube is 13 cm wide (5 inches), i.e. the sum of the number of sides and the number of pieces. Moreover, the figure 7 coming in seventh position in the barcode ornamenting the CD, I will not insult you by going further into the details of the exact nature of this numerical gathering.

Political, polemical, sly, jocker, mischievous, Requiem pour des Baroqueux will prove to be a valuable ally of your future evenings amongst optimistic friends.
Version française:

Ils ont été nombreux à vouloir percer le secret de la spirale, tous sans exception s'y sont cassés les dents. Reproduisant à l'envie des motifs circulaires sans fin sur des feuilles de papier de mauvaise qualité, en proie à une douleur contemplative qui n'osera jamais dire son nom, tous les chercheurs les plus éminents sont restés fascinés par l'idée même de boucle sans fin. Surgi d'une septième voie obscure, émergeant des confins anonymes dinfluences savamment éclatées, requiem pour des baroqueux, le premier album de Rien épouse les circonvolutions de cette même spirale hypnotique. S'octroyant à peine comme garde fou cette phrase de Max Ophüls (1902 à Sarrebruck 1957 à Hambourg) « A force de courir après le public, on ne finit plus par voir que son cul », Rien entend bien conférer à son opus sinusoïdal cette fièvre involontairement anti-mercatique qui caractérisait ces baroqueux dont laura putride plane avec bienveillance au dessus de cet album.

Refusant catégoriquement dappréhender le « problème spirale » sous un angle mathématique, Rien truffe au contraire sa démarche de contradictions numéraires : le fond privilégie la circonvolution en sept temps (lors des enregistrements, sept personnes seulement étaient acceptés dans le studio), au gré de sept plages sonores truffées de chausses-trapes auditives et, pour peu qu'on veuille s'en donner la peine, visuelles. La forme, par pur et viscéral souci de respecter la logique du chaos qui est la sienne, revêt l'apparence dun cube à six faces à monter soi même, offrant l'opportunité au fielleux acquéreur d'y dessiner à sa guise des signes cabalistiques pour forcer le destin. Comble de l'arrogance, le côté du cube mesure 13 cm , soit l'addition du nombre de faces du cube et du nombre de morceaux. Le chiffre 7 arrivant de surcroît en septième position sur le code-barre ornant le CD, je ne vous ferai pas l'affront dexpliciter plus avant la nature exacte de ce regroupement chiffré.

Politique, polémique, sournois, blagueur, espiègle parfois, requiem pour des baroqueux saura se montrer un allié de taille lors de vos prochaines soirées entre amis optimiste.