SOLTERO
Discography:


2008 - "You're no Dream" (cd album - dbmo 57 - Messie Murders records)


2008 - "Dead Bees sampler #7" (cd-r compilation - db -06)
---
Website:
http://www.solterosongs.com/
http://www.myspace.com/soltero
---
Biography: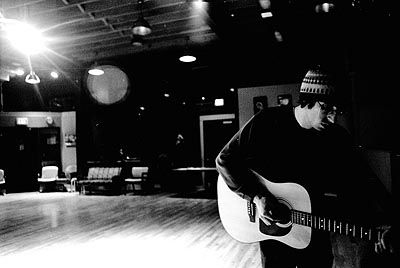 The fifth Soltero record, You're No Dream, comes out on May 20 on La Societe Expeditionnaire (PA) and June 2 on Messie Murders (Paris)...two homes to big hearts that I've known for a long time.
The previous records can generally be found online - either through solterosongs.com or the respective label's website. But I'd say you're probably S.O.L. on the first record ("Science Will Figure You Out,") because that sucker is out of print, and I think Defrocked may be as well.
Science Will Figure You Out (Kentuckyland) 2001
"[Soltero's] first full-length, Science Will Figure You Out, is absolutely stunning. It's an album of someone in transition, with a three-song opener that surpasses anything I've heard this year... Sure, anyone can write about unrequited love, but how many can really make you care about their pain?" - Northeast Performer (October 2001)
Defrocked and Kicking the Habit (Handsome Records) 2002
"The news may be bad, but the way Howard tells it often evokes a smile amid the tears. Without those few light touches, mostly lyrical in nature, Defrocked might have been too heavy for even the hardest cynics to endure. With them, Howard reminds us that a sense of humor is the best survival tool for life's myriad disappointments -- some good songs don't exactly hurt, either." AMG rating = 4 stars - John Schacht, All Music Guide
The Tongues You Have Tied (Three Ring Records) 2003
"Tim Howard writes songs that possess the mortal weight of old folk ballads, but are delivered with the regal melodies and vocal style of [Ray] Davies.... Tongues is a quiet, beautiful, and sometimes self-deprecating collection of songs.... the title track sounds like Stephen Merritt collaborating with Elliott Smith." - Zeth Lundy, PopMatters (August 2004)
Hell Train (Kip Kip Traw + Three Ring Records) 2005
"Doing the solo singer/songwriter thing well is hard to pull off. You've got to offer the breathy brilliance of an Elliott Smith, the homespun wit of a Loudon Wainwright, the poetic audacity of a Joni Mitchell -- or in the case of Tim Howard, aka Soltero , a bit of all three." - Dan Strachota, SF Weekly (December 2005)
"Hell Train is a record to which I'll keep coming back." - Alistair Fitchett, Plan B (UK) (July 2005)