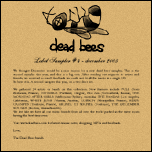 db -06 - Sampler Dead Bees # 7 (cd-r)
This record is available as a free lossless audio (FLAC) download from ThePirateBay.org's BitTorrent tracker.

Click this link to download the .torrent file and start downloading the music.
(You will need a BitTorrent client - such as BT, ABC, BitComet, Azureus... )
Tracklisting (and track by track mp3 download links)
01. Cobson - The Thing -> mp3
from "Like a bike without brakes"
02. The December Sound - Drone Refusenik -> mp3
from "The Silver Album"
03. The Quarter After - Sanctuary -> mp3
previously unreleased, from the upcoming "Changes Near" album
04. Asteroid No. 4 - Flowers of Ours -> mp3
previously unreleased, from the upcoming "These Flowers of Ours-
A Treasury of Witchcraft & Devilry" album
05. Kamido:Tu - La Tangente, feat. Hunz -> mp3
from "Vast"
06. Room 4 - Frustration -> mp3
previously unreleased
07. Let's Go Sailing - Sideways, remix by Asa Taccone -> mp3
from "Sideways remix by Asa Taccone" - digital release
08. Pierre - Move it -> mp3
from "Who Cares? Me!"
09. Highway - T is for Trouble -> mp3
from "Black Letters Home"
10. Soltero - Out at the Wall -> mp3
from "You're no Dream"
11. D.L. Sparks - Too Much -> mp3
previously unreleased
12. Fuck Buddies - The Darkest Regions -> mp3
from "Burials"
13. Hazelwood Motel - Not Enough -> mp3
from s/t album
14. Sabertooth - Darkest Days -> mp3
from "Old Days and the Island"
15. Silver Rockets - Hangin' On -> mp3
from s/t single
16. The Arrogants - Heroine -> mp3
from "You've Always Known When Best to Say Goodbye"
17. Recife - The Day -> mp3
demo, previously unreleased
18. The Koolaid Electric Company - Untitled #1 -> mp3
from "Electric" EP
19. The Junkyard Birds - She's a Witch -> mp3
from "The Fuck album"

download CD cover (Adobe PDF)
---
Label Sampler #7 - june 2008
One full year has passed since we released our previous label sampler. During that time we were lucky enough to spend some great time with many of our friends, turning virtual relationships into real ones, and into stronger friendships. We have also made new friends and met new people we're dying to introduce to you.
This new compilation gather a large number of newcomers in the extended Dead Bees family.
We are proud to bring to you THE QUARTER AFTER (Los Angeles, Ca.), THE ASTEROID NO 4 (Philadelphia, Pa.), ROOM 4 (Perpignan, France), HIGHWAY (Portland, Or.), SOLTERO (Philadelphia, Pa.), HAZELWOOD MOTEL (Portland, Or.), SABERTOOTH (Portland, Or.), SILVER ROCKETS (New York City, N.Y.).
Most of these artists' records are or will be available from our mail-order.
This new compilation will be available as a free download - as usual - from our website and from other music platforms. A lossless audio version will be hosted on Archive.org. This music will be shared under the terms of the Creative Commons Music Sharing License.
Visit www.deadbees.com for latest release news, shopping, MP3s and feedback.
Love,
The Dead Bees team.
---
This music free to share under
Creative Commons Music Sharing License.
You are free:
to Share — to copy, distribute and transmit the work
Under the following conditions:
- Attribution. You must attribute the work in the manner specified by the author or licensor (but not in any way that suggests that they endorse you or your use of the work).
- Noncommercial. You may not use this work for commercial purposes.
- No Derivative Works. You may not alter, transform, or build upon this work.

Dead Bees records label sampler #7 - 2008 by Dead Bees records is licensed under a Creative Commons Attribution-Noncommercial-Share Alike 2.0 France License.
Based on a work at www.deadbees.com.