THE LOVETONES
Discography:


2010 - "Dead Bees sampler #9" (cd-r compilation - db -08)


2003 - "Be What You Want " (cd - Committee To Keep Music Evil - dbmo28)
---
Website:
---
Biography: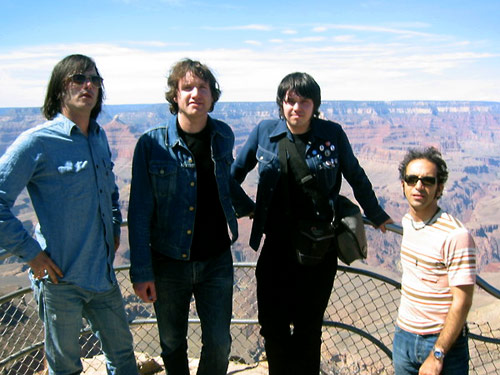 bjm and the lovetones usa tour may 2003
THE LOVETONES
Here's a little background: Matthew J Tow first gained attention through australian psychedelic band Drop City. Hailing from Sydney's inner city, Drop City's combination of pop melodies and lush psychedelic textures saw the trio gain a reputation in Australia throughout the nineties as kings of the acid-soaked soliloquy.
Drop City achieved considerable success, releasing five albums including the critically acclaimed This Heavenly Machine, and toured all over the world playing with like-minded artists such as Stereolab, the Hoodoo Gurus, Luna, You Am I, the Posies, Plush and the Stone Roses. There were also appearances at major festivals like The Big Day Out. Drop City chose to end alongside the millennium.
In 2000 Tow took time off from music and travelled through the US and UK. He hooked up with long time friend Anton Newcombe from the Brian Jonestown Massacre and began writing new songs. Tow then returned to Australia with the idea of starting a new group. The sound in his head resembled the pioneering spirit of latter-period Beatles and Bowie, the psychedelia of artists such as Soft Machine and the Zombies, and the classic heartfelt pop of The Waterboys and Elliott Smith. Enter The Lovetones.
The results are heard on their debut album, Be What You Want, recorded at Sydney's Electric Avenue Studios by seasoned producer Phil Punch (Radio Birdman, Died Pretty, Hoodoo Gurus) and Jason Blackwell (Jodie Phillis, Golden Rough, Drop City). In 2001/2002 The Lovetones toured Australia extensively and scored the coveted support slot for Morrissey on the Sydney leg of his first ever solo Australian tour.
In 2003 Anton Newcombe released Be What You Want in the US on his label The Committee To Keep Music Evil through Bomp records
A Lovetones US tour followed, supporting The Brian Jonestown Massacre on the west coast and up into Canada. Tow also guested as rhythm guitarist in the BJM on an extensive national tour of the US and contributed 2 songs to BJM's ...And This Is Our Music released through TeePee Records.
In 2004 to coincide with the release of the Stars EP through Chatterbox Records, The Lovetones toured again with the BJM, this time down under.
Throughout the years from 1995 to 2004 Matthew Tow has also released 5 critically acclaimed psychedelic/ambient/electronic records under the 'Colorsound' moniker. All releases are through UK based label 3rd Stone Records home of Spacemen 3, Spectrum and E.A.R.
The Lovetones new album Meditations will be released through Tee Pee Records on 18 October 2005 with a US tour to follow in October/November.