SPINDRIFT
Discography:


2010 - "Dead Bees sampler #9" (cd-r compilation - db -08)
---
Website:
http://www.myspace.com/thewest
---
Biography: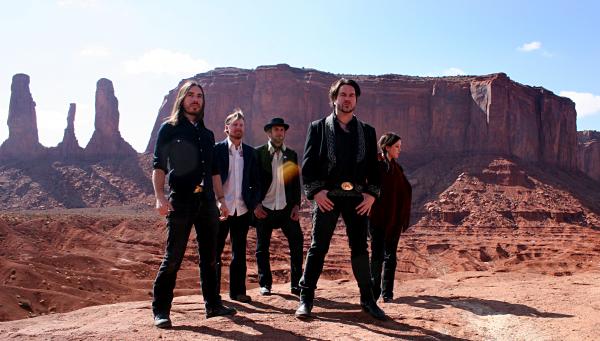 SPINDRIFT
"A mix of psych-rock and the Spaghetti Western sound of Ennio Morricone equals the perfect soundtrack for your next trip to a ghost town." -Paste Online
"[Spindrift has] upgraded the master's spaghetti sonics for the new millennium on its imminent full-length debut The West..." -Wired.com
"L.A.'s leading practitioners of exotic soundscapes, conjuring up dreamy spells that alternately evoke spaghetti Westerns, psychedelia, dusty blues and Old World klezmer." -LA Weekly
"I'm not quite sure what parallel universe Spindrift's music belongs in — maybe a post- apocalyptic landscape where art movies are projected across the desert sky while what remains of the flora comes to life, wielding double-neck bass guitars and autoharps. But I'd love to visit." -Buzz Bands
"Not a soundtrack, but cinematic in its own right—a moody, twang-driven opus full of dark overtones and sun-drenched hysteria." -CRAWDADDY
"Reminiscent of such greats as Ennio Morricone and The Ventures, Spindrift creates an atmospheric soundscape where desert meets the sea." -EVIL MONITO MAGAZINE
..
Dear Stranger,
All Heart and Hell bent- we rise with the ether. As we ride across the sky, we employ our sonic homing devices. We have a song for the lone star that shines across this desert wasteland... a raga, for the high planes drifter... a lullaby for each and every bastard child, adrift in a formless world. Space is thick with wormholes, and the nests of baby rattlesnakes. We know. This is the place we lay our heads. We are Spindrift. Go West, my friend... West, where the stage is set... West, into the sunset. Ride. This is music. This is vindication!... in the form of an invitation, delivered by the winds whisper into your ear. You Stranger, have stumbled upon black-mirrored waters that shimmer with the Night's darkest of promises. It flows and laps out the song of the wanderer's lament. The melody lifts you, and drifts through you, with fingers of smoke. Centuries of man's invention, have now gathered all about you in a mystical mass. "Come with us." The sound beckons from a fiery place within. All Heart and Hell bent, we have woven a carpet of stars for the very purpose of riding into your soul. We are Spindrift.
-Cameron Murray