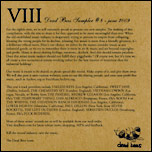 db -07 - Sampler Dead Bees # 8 (cd-r)
Release Date: May 28th.

This 8th label sampler was premiered & released for Barcelona's Primavera Sound festival.
This record is available as a free lossless audio (FLAC) download from ThePirateBay.org's BitTorrent tracker.

Click this link to download the .torrent file and start downloading the music.
(You will need a BitTorrent client - such as BT, Deluge, ABC, BitComet, Azureus... )
Tracklisting (and track by track mp3 download links)
1. Sleep Talker - Niklaas Thinks Aloud -> mp3
previously unreleased
2. Useless Keys - White Noise -> mp3
from s/t demo
3. Sweet Jane - Where's Your Money Gone -> mp3
from "'Blackboots & Blackhearts''
4. The Upsidedown - Black Rainbow -> mp3
from "Human Destination"
5. The Chemistry Set - Regarde Le Ciel -> mp3
from "Alchemy101" EP
6. Vietnam Cowboy - Turn Me Back -> mp3
previously unreleased
7. Cobson - Blues for Hire -> mp3
from s/t EP
8. Andrew Gleason - Soldier Song -> mp3
previously unreleased
9. Dan Alfresco - Flying High -> mp3
previously unreleased
10. The Stevenson Ranch Davidians - Stargazer -> mp3
Previously featured on Northen Star's "Psychedelica Three"
11. The December Sound - Painkiller -> mp3
from "The Silver Album"
12. Highway - Last Things -> mp3
from "Black Letters Home"
13. Recife - Doledrum -> mp3
previously unreleased
14. Lower Heaven - Knife -> mp3
from "Ashes"
15. Paul Dillon - Cleaners -> mp3
previously unreleased
16. Alone in 1982 - Hate the Eight Knots -> mp3
from "Cold Grey"
17. Sebastien Duclos - Razorblades (cyanoacrylate edit) -> mp3
previously unreleased
18. The Left Outsides - Unopened Letters -> mp3
from "The Shape Of Things To Come"
19. The Koolaid Electric Company - Traumalo -> mp3
previously unreleased

download CD cover (Adobe PDF)
download Notes & License disclaimer (Adobe PDF)

---
Label Sampler #8 - june 2009
For the eighth time, we're still extremely proud to present our new sampler. The making of this compilation, with the aim to share it for free, appeared to be more meaningful than ever. When the old established music industry is desperately trying to prevent its empire from collapsing, blaming the wrong people for its decline, releasing free music is more than a friendly giveaway, it's a deliberate ethical move. Here's our choice: we either let the masses consider music as any industrial goods, or we try to remember there is more in art & music and see beyond copyrights and profit. Music is about sharing feelings, emotions, decibels. And this should remain priceless. Does this mean music makers should not fulfill their piggybanks ? Of course not, but it's time we all create a new economical system working rather for the best interest of musicians than for industrial holdings'.
Our music is meant to be shared, so please spread this record. Make copies of it, and give them away.
We will also post it onto various websites, soon-to-sue file sharing portals, and onto non-profit free music, such as Archive.org or FreeMusicArchive.org.
This year's track providers include USELESS KEYS (Los Angeles, California), SWEET JANE (Dublin, Ireland), THE CHEMISTRY SET (London, England), VIETNAM COWBOY (Las vegas, Nevada, w/ Bobby from THE PANDAS), ANDREW GLEASON (Los Angeles, California, formerly known as THE TEMPORARY THING), DAN ALFRESCO (Perpignan, France, formerly known as ROOM 4 or THE WHIFFS),
THE STEVENSON RANCH DAVIDIANS (Los Angeles, California), LOWER HEAVEN (Silverlake, California), PAUL DILLON (New York, from SILVER ROCKETS), THE LEFT OUTSIDES (London, England), SEBASTIEN DUCLOS (Strasbourg, France, formerly known as FUCK BUDDIES).
Most of these artists' records are or will be available from our mail-order.
Visit www.deadbees.com for latest release news, shopping, MP3s and feedback.
Kill the record industry, save the music.
Dead Bees.
---
This music free to share under
Creative Commons Music Sharing License.
You are free:
to Share — to copy, distribute and transmit the work
Under the following conditions:
- Attribution. You must attribute the work in the manner specified by the author or licensor (but not in any way that suggests that they endorse you or your use of the work).
- Noncommercial. You may not use this work for commercial purposes.
- No Derivative Works. You may not alter, transform, or build upon this work.

Dead Bees records label sampler #8 - 2009 by Dead Bees records is licensed under a Creative Commons Attribution-Noncommercial-No Derivative Works 2.0 France License.
Based on a work at www.deadbees.com.