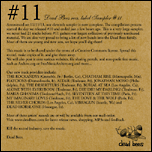 db -10 - 11: Dead Bees records label sampler #11 (cd-r)
Release date: 06/11/12.
Pre-release date: 11/11/11.
01. The RocKandys - Yalalaaa
Previously unreleased
02. Chatham Rise - How Do You Sleep
Previously unreleased
03. Piatcions - Sleepless
From "Senseless>Sense" LP
04. The Rusty Bells - Fumes Of Fear
From "Rebirth" LP
05. Altaïr - Free Jazz Music
Previously unreleased
06. Jonathan Mono - Smallest Pin of Light
Previously unreleased
07. The Deserteurs - The Wind Won't Stop To Blow
Previously unreleased
08. Burial At Sea - Barely There
Previously unreleased version
09. Alone With Everybody - A Brief Breath of Spring
Previously unreleased
10. Die! Die! my Darling! - Bronco B.
From "The Great Robbery" EP
11. Sky Parade - High On Desire (French version)
Previously unreleased
12. The Chemistry Set - Impossible Love (Gato Team remix)
Previously unreleased
13. Maria Ghanima - Now!
Previously unreleased
14. Seventeen At This Time - Everything I Touch Goes Wrong
From s/t single
15. My Imaginary Loves - If Only
Previously unreleased
16. The Dove & The Wolf - On the Other Side
Previously unreleased
17. The Silver Chords - Eyes Of Despair
Previously unreleased
18. The Black Angels - No Satisfaction (Live Black Mountain cover)
Previously unreleased
19. Vibragun - A Willing Sacrifice
Previously unreleased
20. Dead Horse One - Alone
From "Heavenly Choir of Jet Engines" EP
21. The Upsidedown - E-Love
Previously unreleased
Notes & License.pdf
Printable CD Cover.pdf
---
THIS RELEASE IS AVAILABLE AS A FREE DOWNLOAD
where to get it?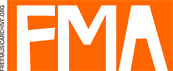 From the Free Music Archive (as MP3):
http://freemusicarchive.org/music/Dead_Bees/Dead_Bees_records_label_sampler_11/


From the Internet Archive (as lossless FLAC):
http://archive.org/details/DeadBeesRecordsLabelSampler11
From this page, check the links above (320kbps MP3)
From The Pirate Bay and other file sharing portals
This record is available as a free lossless audio (FLAC) download from ThePirateBay.org's BitTorrent tracker.

Click this link to download the .torrent file and start downloading the music.
(You will need a BitTorrent client - such as BT, Deluge, ABC, BitComet, Azureus... )
---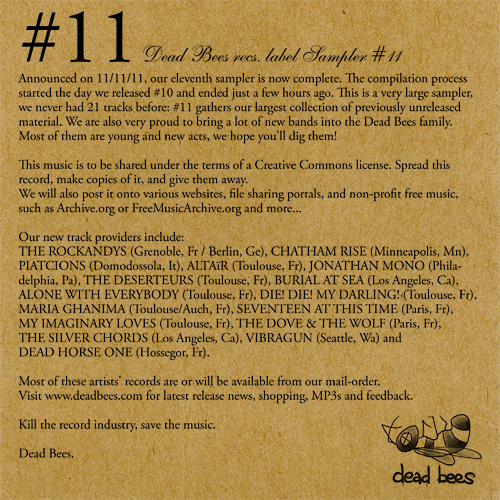 Dead Bees records label sampler #11
"#11"
Label Sampler #11 - June 2012
Announced on 11/11/11, our eleventh sampler is now complete. The compilation process started the day we released #10 and ended just a few hours ago. This is a very large sampler, we never had 21 tracks before: #11 gathers our largest collection of previously unreleased material. We are also very proud to bring a lot of new bands into the Dead Bees family. Most of them are young and new acts, we hope you'll dig them!
This music is to be shared under the terms of a Creative Commons license. Spread this record, make copies of it, and give them away.
We will also post it onto various websites, file sharing portals, and non-profit free music, such as Archive.org or FreeMusicArchive.org and more...
Our new track providers include: THE ROCKANDYS (Grenoble, Fr / Berlin, Ge), CHATHAM RISE (Minneapolis, Mn), PIATCIONS (Domodossola, It), ALTAïR (Toulouse, Fr), JONATHAN MONO (Philadelphia, Pa), THE DESERTEURS (Toulouse, Fr), BURIAL AT SEA (Los Angeles, Ca), ALONE WITH EVERYBODY (Toulouse, Fr), DIE! DIE! MY DARLING! (Toulouse, Fr), MARIA GHANIMA (Toulouse/Auch, Fr), SEVENTEEN AT THIS TIME (Paris, Fr), MY IMAGINARY LOVES (Toulouse, Fr), THE DOVE & THE WOLF (Paris, Fr), THE SILVER CHORDS (Los Angeles, Ca), VIBRAGUN (Seattle, Wa), DEAD HORSE ONE (Hossegor, Fr).
Most of these artists' records are or will be available from our mail-order.
Visit www.deadbees.com for latest release news, shopping, MP3s and feedback.
---
This music free to share under
Creative Commons Music Sharing License.
You are free:
to Share — to copy, distribute and transmit the work
Under the following conditions:
- Attribution. You must attribute the work in the manner specified by the author or licensor (but not in any way that suggests that they endorse you or your use of the work).
- Noncommercial. You may not use this work for commercial purposes.
- No Derivative Works. You may not alter, transform, or build upon this work.

Dead Bees records label sampler #11 de Dead Bees records est mis Ó disposition selon les termes de la licence Creative Commons Attribution - Pas d'Utilisation Commerciale - Pas de Modification 3.0 France.
BasÚ(e) sur une oeuvre Ó www.deadbees.com.
Member of the Creative Commons network