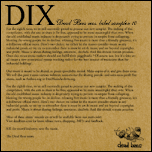 db -09 - Dead Bees records label sampler #10 (cd-r)
Pre-release date: 10/10/10.
Release date: 4/1/11
Tracklisting:

01. Federale - Train Song
from "Devil in a Boot"
02. The Rusty Bells - Drop Your Eyes
from "EP 2"
03. The Dalaï Lama Rama Fa Fa Fa - Sun
previously unreleased
04. Ostrich Tuning - Floor
previously unreleased
05. Alone in 1982 - Take No Prisoners
from "If You Were Red Tonight"
06. Call Me Loretta - Revenge Of The Nerds
from "Mountains and Rivers Between Us"
07. Cotton Club - Heaven Haze
from "Single'11"
08. Moloko Velocet - Blind
previously unreleased
09. Pete International Airport - Starlight
from "Pete International Airport"
10. The Cobblestones - Anytime
from "Highlight Of Superficial Provocation"
11. Christian Bland And The Revelators - Emotionless Man
from "The Lost Album"
12. George - Woo-hoo I'm just a Little Bird
previously unreleased
13. Recife - Paper Man
from "Doldrums"
14. The Chemistry Set - The World is Hollow and I Touched The Sky [The Gato Team remix]
from "Chemistry Is Just Number"
15. Dan Alfresco & Savage - Today
previously unreleased
16. Treasure Maps - Can I Make It Up To You?
previously unreleased
17. The Koolaid Electric Company - Home
previously unreleased
18. All In The Golden Afternoon - Hôtel de Ville
previously unreleased
19. The Dead Mantra - A Bomb
from "Path Of Confusion EP"
download CD cover (Adobe PDF)
download Notes & License disclaimer (Adobe PDF)
---
THIS RELEASE IS AVAILABLE AS A FREE DOWNLOAD
where to get it?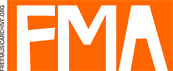 From the Free Music Archive (as MP3):
http://freemusicarchive.org/music/Dead_Bees/DIX_Dead_Bees_label_sampler_10/


From the Internet Archive (as lossless FLAC):
http://www.archive.org/details/DixDeadBeesLabelSampler10
From this page, check the links above (320kbps MP3)
From The Pirate Bay and other file sharing portals
This record is available as a free lossless audio (FLAC) download from ThePirateBay.org's BitTorrent tracker.

Click this link to download the .torrent file and start downloading the music.
(You will need a BitTorrent client - such as BT, Deluge, ABC, BitComet, Azureus... )
---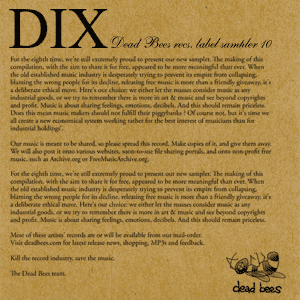 Dead Bees records label sampler #10
"DIX"
Label Sampler #10 - April 2011
Originally due on 10/10/10, our tenth sampler got a bit delayed. We are sorry about that. This new compilation tracks were gathered last summer for an early batch, and some others were recently added over the past weeks. This very long process got us more tracks than we could include on a single CD, so we had to put some of them aside. This means we already have material ready for sampler #11!

This music is to be shared under the terms of a Creative Commons license. Spread this record, make copies of it, and give them away.
We will also post it onto various websites, file sharing portals, and non-profit free music, such as Archive.org or FreeMusicArchive.org and more...

Our new track providers include: FEDERALE (Portland, Or), THE RUSTY BELLS (Toulouse, Fr), OSTRICH TUNING (Toronto, On), PETE INTERNATIONAL AIRPORT (Portland, Or), THE COBBLESTONES (Paris, Fr), GEORGE (Paris, Fr), TREASURE MAPS (New York, NY), THE DEAD MANTRA (Le Mans, Fr).

Most of these artists' records are or will be available from our mail-order.
Visit www.deadbees.com for latest release news, shopping, MP3s and feedback.
---
This music free to share under
Creative Commons Music Sharing License.
You are free:
to Share — to copy, distribute and transmit the work
Under the following conditions:
- Attribution. You must attribute the work in the manner specified by the author or licensor (but not in any way that suggests that they endorse you or your use of the work).
- Noncommercial. You may not use this work for commercial purposes.
- No Derivative Works. You may not alter, transform, or build upon this work.

Dead Bees records label sampler #10 - 2010 by Dead Bees records is licensed under a Creative Commons Attribution-Noncommercial-No Derivative Works 2.0 France License.
Based on a work at www.deadbees.com.